World Voice Day is also about vocal health. Even if you have a voice disorder, there are things you can do to keep it functioning at its best. Listen to Speech-Language Pathologist Darla Freeman's presentation to learn more!
World Voice Day was established on April 16 with the main goals of increasing public awareness of the importance of the voice and alertness to voice problems. The theme for 2023 is YOUR VOICE MATTERS.
Awareness is a critical factor influencing early diagnosis, best treatment practices, funding for research and, hopefully, cures. World Voice Day helps support these goals. Your voice is unique and should be heard today and every day! Join us in raising awareness about spasmodic dysphonia and related voice conditions. Dysphonia International is a community that cares about you and your voice.
IN THEIR OWN WORDS | WHY VOICE MATTERS
AWARD-WINNING REPORTER PETER HASKELL IS RAISING AWARENESS ABOUT VOICE DISORDERS
After 28 years as a reporter, Peter Haskell left WCBS on October 31. He shared, "It's been the journey of a lifetime that has brought me immeasurable satisfaction. There have been so many exciting events, memorable stories and terrific people. I've said for years this is the best job ever, and I'm grateful to have had it. I've also had the privilege of working with smart, talented and committed co-workers."
Several years ago, he developed spasmodic dysphonia. Peter was candid with his bosses from the beginning, and they've been in his corner. But as time went on, it became clear to Peter that what he was doing was unsustainable.
Reflecting on the last 28 years, Peter covered eight national political conventions, four Presidential primaries, seven World Series, two Super Bowls, NBA Finals, Stanley Cup Finals, 20+ NYC Marathons, a horse racing triple crown and a few ticker tape parades. He also covered challenging stories, including 9/11, onsite for months and the stories that followed since then, the Sandy Hook shooting, hurricanes, an earthquake in Haiti, JFK Jr's plane crash, the Miracle on the Hudson, the arrest of the Boston Marathon bombing suspect, fires, shootings and more.
Peter said, "I'm not sure what comes next, but it's not retirement. We can't always choose the path we want to take, but we have to acknowledge reality and keep moving forward. I might have trouble speaking, but I haven't lost my voice."
Peter has been graciously volunteering his time with Dysphonia International to help raise awareness about spasmodic dysphonia and other life-altering voice disorders, especially around World Voice Day. We are so appreciative!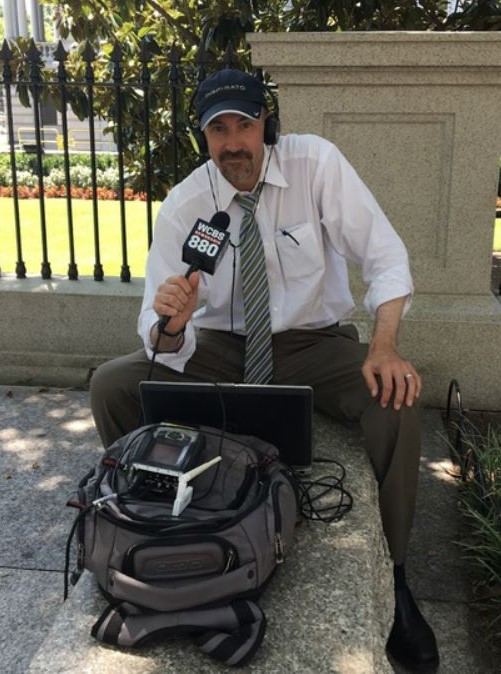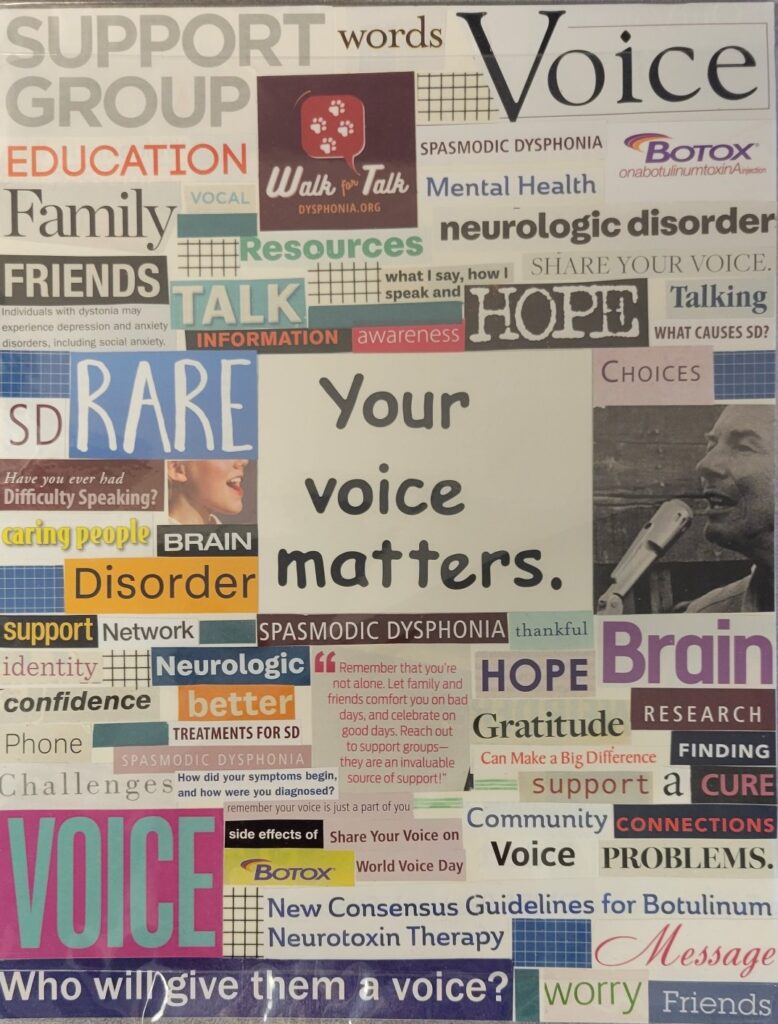 LAURA RAHUBA | ARTISTIC WORDS
I've been an avid paper-crafter for 20+ years, my main interests being scrapbooking, card-making, and collage. A collector by nature, I enjoy selecting and saving words and images that speak to me. I've spent many hours cutting apart magazines, flyers, junk mail, etc. and sorting them into categories for later use. I find this process relaxing. The words and phrases I collected for this voice collage reflect the many different emotions, challenges, and experiences I've encountered navigating life with a voice disorder. As I began piecing them together to create this collage, I couldn't help but think of the many friends I've made within the SD community. Thinking about those people influenced my design choices. I left some words out. I went searching for additional words I felt were needed. I re-phrased certain bits into a more hopeful tone. The original idea was to create an expression of my own experience with Spasmodic Dysphonia…but because I'm part of a compassionate community that has supported me and influenced me, it evolved into an expression of our experience collectively. I hope each of you see a bit of yourself in this collage, and know that your voice matters.
SCOTT FLANAGAN | QUILTING IS MY VOICE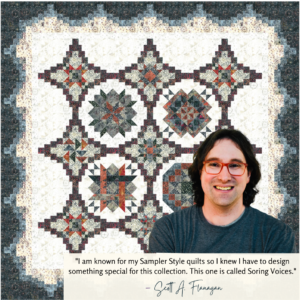 "One of my main missions since my SD started in 2017 has been to raise awareness and raise funds for SD research and treatment. It is with great excitement and joy that I announce the release of my new fabric collection with Banayan Batiks, "QUILTING IS MY VOICE" coming to Quilt Stores in January 2024. This collection of fabric and the corresponding patterns I have designed are all based on my journey with spasmodic dysphonia. Through this journey, quilting has become my voice. It has helped me both face the disorder with a positive attitude. Thanks to the support of my local quilt community but also the larger quilting community. It has also given me the ability to be a spokesman and advocate for Dysphonia International and everyone living with spasmodic dysphonia. All the patterns in this collection have names that mean something to me and help tell my story. I will also be donating 10% of all the sales to the organization to help find answers." CLICK HERE TO SEE ALL THE PATTERNS IN THE COLLECTION
A SONG BY WENDY JEAN GARRISON
VERSE I
I was mute, could hardly speak
People accused me of whispering
Couldn't be heard in a crowded place
Or say my name on the phone
Felt like my world was splintering
CHORUS
When all I found alone was weakness
My future bleak
I was staggering
Someone stepped in place beside me
Voice getting louder
Someone gave me back my power
VERSE II
It could be someone who shares our post
Someone who drives us to the airport
Someone who makes that phone call for us
Or people we've never met
Reaching out on the internet
BRIDGE
As we meet our challenges
When we're balancing
who we are
with who we've been
Before we know what the matter is 
Others give us back our power
CHORUS
When all we can find alone is weakness
Our future bleak
We're staggering
Then someone steps in place beside us,
Voice getting louder
Others give us back our power
Others give us back our power
VOICES FROM OUR COMMUNITY
New Support Group Leader from AL, Judith Rodwell, shared: "I am new to the cause and it was on the Dysphonia International website that I finally had that light bulb moment where I realized that I could get help for my problem. I have spent 54 years as a voice teacher and understand just how incredible our voices are to us as long as they work. When they start glitching, we panic and feel all alone. I am glad to help support folks going through this.  The pandemic reminded us all of the need to be together to support one another, didn't it?"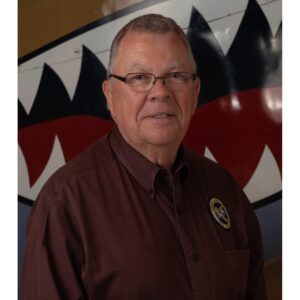 Bob Dockendorf, an Area Contact Leader, has been living with spasmodic dysphonia for over 30 years. He wrote an essay about his vocal journey entitled, One Voice Lost and Found. READ IT HERE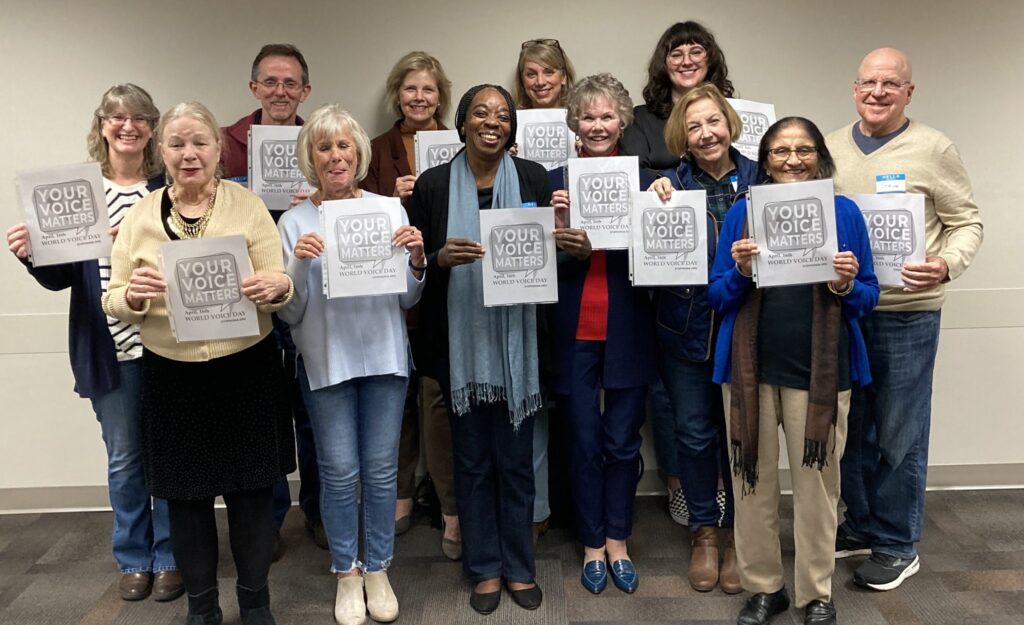 The Charlotte Dysphonia Support Group celebrated World Voice Day at a recent meeting.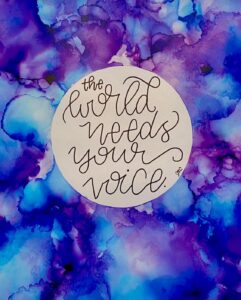 Area Contact Leader Sue Abrams shared artwork that her niece, Joanna Cranston, created for her. Sue shared, "I have had SD over 30 years. I have worked as a nurse this whole time. It has had its share of challenges, but God has helped me every step along the way. I am able to empathize with my patients who have communication problems."
RAISE AWARENESS ABOUT VOICE ISSUES BY POSTING ON SOCIAL MEDIA
If you are active on social media, help raise awareness about spasmodic dysphonia and related voice conditions by sharing World Voice Day images on your profile. If you are comfortable, share something about your own experience of living with a voice condition. Be sure to use #WVD so we can find your post! To save an image, click on the graphic you like, and it will pop up. Then you can right click on it and save it.
REGISTER FOR FREE WORLD VOICE DAY EVENTS