World Voice Day is celebrated every April 16th with the main goal of increasing public awareness throughout the world of the importance of the voice and the impact of voice problems. The 2022 theme for World Voice Day is LIFT YOUR VOICE. Awareness is a critical factor that influences early diagnosis, best treatment practices, funding for research and hopefully, cures. World Voice Day helps support these goals. Your voice is unique and should be heard today and every day! Join us in raising awareness about spasmodic dysphonia and related voice conditions.
SPEAKING BEYOND YOUR VOICE: CREATIVE OUTLETS FOR SELF-EXPRESSION
In honor of the 2022 World Voice Day theme, Lift Your Voice, we were inspired to create a new program, Speaking Beyond Your Voice: Creative Outlets for Self-Expression. Self-expression is about communicating your individuality – your story, your thoughts, your feelings and your emotions. It is a basic and critical need. It helps others understand us. It highlights our personality, conveys our needs, and connects us with others. Take the voice away, and a person's primary form of expression is also removed, but need to be heard remains. That is why art can provide a unique and alternate form of self-expression that can be even more important to those who have lost their voice due to a vocal disorder such as spasmodic dysphonia. Artistic expression communicates what words cannot. The creative process may also allow for greater understanding, self-reflection, and even healing.
This program is an opportunity for our community to showcase how they lift their voices and express themselves through creative outlets such as descriptive writing, art, poetry, song, dance, music, and storytelling. This is an on-going program and submissions will be shared online through both the website and social media channels. 
Thank you to the people featured below who shared how they express themselves beyond the sound of their voice.
SCOTT FLANAGAN | USING

QUILTING HELP TO FIND ANSWERS FOR SD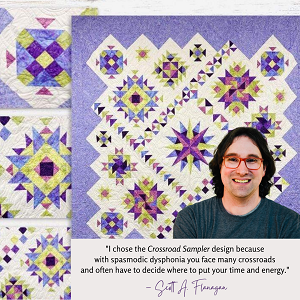 "One of my main missions since my SD started in 2017 has been to raise awareness and raise funds for SD research and treatment. Quilters are some of the most caring and supportive groups of people I know, so for the past couple of years I have offered a quilt pattern in return for a donation to the NSDA. However, this year, I have decided to give away a quilt from my collection to ­­one lucky person who donates to the NSDA. Donations made between April 16 and April 30 will be eligible and I will draw to decide the winner on May 9, 2022. 
"The quilt I chose to give away is my popular "Crossroads Sampler" that is 96″ x 96″. I chose this quilt because with SD you face many crossroads and often have to decide where to put your time and energy. Do you quit a job you love because it's too vocally taxing, or do you try to work around the SD? How do you go out and socialize in loud situations when it's difficult to talk and communicate in a quiet room? Do you make a phone call yourself or do you wait and ask for help to make life easier? A common quilt block I work a lot into my quilts is Flying Geese. For one they are one of my favorite quilt blocks to make, and also two geese use their "voice" to signal the changes in seasons as they fly south for the winter and north for the summer, much like my voice is signaling a change my life and a crossroad where I have to learn to live with an ongoing voice disorder." Click here to read more about Scott.
RAISE AWARENESS ABOUT VOICE ISSUES THROUGH SOCIAL MEDIA
If you are active on social media, help raise awareness about spasmodic dysphonia and related voice conditions by sharing World Voice Day images on your profile. If you are comfortable, share something about your own experience of living with a voice condition. Be sure to use #WVD so we can find your post! To save an image, click on the graphic you like, and it will pop up. Then you can right click on it and save it.
INTERNATIONAL FRIENDSHIPS FORMED AT SYMPOSIUMS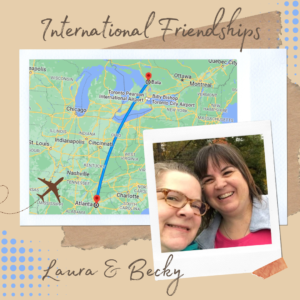 The international friendship between Becky Lacroix and Laura Rahuba began in spring 2017, when they happened to be seated together during Leadership Workshop which proceeded the annual NSDA Symposium in Nashville, TN. Becky, who had travelled a long way from her home in Canada, was eager to share her ideas with the group. But her soft whispery voice wasn't loud enough to be heard by the whole room. Laura relayed the message on her behalf. They stuck together throughout the two-day event and stayed in touch afterwards.
Their friendship grew through conversations on Facebook Messenger, as they supported each other through their voice-related struggles. After re-locating to another state, Laura faced complications with her health insurance, resulting in a lapse of her Botox® treatment, during which time her voice deteriorated. Becky, still seeking an official diagnosis, was frustrated by the conflicting information she got from different health care professionals. Their online chats grew beyond SD, as they learned more about each other and shared bits of their daily lives. Laura was especially intrigued by Becky's pride and affection for her small, picturesque town of Bala and the surrounding Muskoka Lakes region, located in central Ontario. This prompted her to plan a trip to Canada, to visit Becky, meet her family, and be a tourist. In autumn 2018, Laura flew in from Atlanta, GA, and together the friends enjoyed a boat cruise on Lake Muskoka, a tour of a cranberry marsh, and the Anne of Green Gables Museum. Laura was welcomed by Becky's family as they celebrated Thanksgiving, which Canadians observe in October. As they approach the five-year anniversary of their friendship, Becky & Laura remain close, despite living a thousand miles apart.
2022 WORLD VOICE DAY PROGRAMS FROM MEDICAL ASSOCIATIONS AND CENTERS