Accepting your new voice as part of the healing process
As with any significant loss, you may feel many emotions…anger, frustration, depression, embarrassment, questioning of your self-identity, wondering why me, even retreating into yourself. We know that the most confident people we know with a voice disorder are also the same people who have gotten themselves to a place of acceptance. 
Six Stages of Acceptance
In the book Easier Done than Said: Living with a Broken Voice, author Karen Adler Feeley talks about the "Five Stages of Grief" as defined by noted psychiatrist Elisabeth Kubler-Ross. Karen suggests a modified version entitled "Six Stages of Acceptance." This model is designed to help us better understand what we feel is normal and can give family and friends a better understanding of the emotional strain of losing one's voice. By changing the title from "stages of grief" to "stages of acceptance," we shift the focus from sorrow to inner peace, which enables us to move toward a more happy and productive state. 
These stages are not neat and orderly.
It is important to note that these stages are not neat and orderly. It can be a messy process, and there is no specific timeline. This could take a few months for one person and many years for another. You could get to acceptance, have a lousy voice day and find yourself frustrated again. You may not even go through every stage or in the same order. Symptoms, circumstances, and personality can all impact the path you take. And each person may handle each stage differently in the best way for themselves. While acceptance is the goal, it is the process that helps you regain your confidence and accept yourself as the beautiful person you are. Remember, there is no way or right way to move through this process.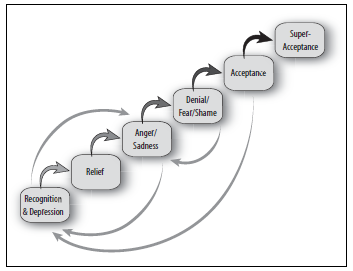 Stage 1: Recognition and Depression
Stage 2: Diagnosis and Relief
Stage 3: Anger and Sadness
Stage 4: Denial, Fear and Shame
Stage 5: Acceptance
Stage 6: Super Acceptance
Stage 1: Recognition and Depression
Unlike those who suffer from a traditional, one-time loss, we with a chronic voice disorder have plenty of time to recognize that something is wrong with our voice. This will eventually prompt you to start looking for a diagnosis. However, this is the worst of the stages because the unknown voice disorder may wreak emotional havoc.
"It was difficult to be a teenager who had been very articulate to suddenly have a choppy voice that sounded so strange. I kept quiet except when around people I knew very well. In school, everyone had to give oral reports in front of the class and I struggled through them. I never volunteered to answer questions and sat in fear I might be called on. It was so embarrassing to struggle through a response even though I knew the answer very well" – Anna
Before you get a diagnosis and have a clear medical explanation for what is going on with your voice it is easy to think that maybe the problem is emotional or psychological. And while we have made progress in reducing the time between symptom onset and diagnosis by a doctor, there is still a time gap and a progression from a lack of answers to a decrease in self-esteem to depression.
"I became depressed and withdrawn from social situations at work and at home. I quit making phone calls, quit ordering in restaurants, and quit using the drive-thru…I withdrew from chatting with people at work and at family get-togethers. I didn't answer the phone or go shopping anymore." = Gail
Seek out a proper diagnosis
Getting a proper diagnosis is critical to moving past this stage. Look for an otolaryngologist who specializes in voice disorders and a neurologist who specializes in movement disorders. Dysphonia International offers a healthcare referral directory to help find a local expert.
Deal with the possible by-products
Recognize that depression can be by-product of this disorder, not a reflection of your character. Do not let it win and take over your life. Push yourself to socialize, even if it is just with a small circle of family and friends. Go to the gym and take a class. Volunteer to deliver meals to seniors are great for one-on-one conversations. Do things you enjoy.
The less you talk, the more uncomfortable you may be with your voice. The more you withdraw, the more you may dwell on the problem. You can quickly create a cycle that just keeps you in this place. Talk to your significant other and ask them to go with you. Laugh often. If you can keep this in the proper perspective, you can minimize the emotional impact it will have on you.
If socializing seems too difficult, consider the following:
Join a support group, no one understands you better than someone who went through this same thing.
Attend a virtual or in-person support meeting.
Join a private Facebook group.
Just keep connecting with others!
Stage 2: Diagnosis and Relief
Stage 3: Anger and Sadness
Stage 4: Denial, Fear and Shame
Stage 5: Acceptance
Stage 6: Super Acceptance