GUEST SPEAKER PROGRAM FOR SLP STUDENTS
The Guest Speaker Program for Speech-Language Pathology (SLP) Students is an outreach program sponsored by Dysphonia International that brings the personal side of living with a voice disorder into college and university classrooms. You can be part of this program by sharing your experiences of living with a voice condition like spasmodic dysphonia. Presentations to SLP students is a safe and comfortable place where the sound of your voice is not judged but rather serves to educate.
Through this narrative learning experience, the goals are for SLPs to:
Better understand the impact of voice conditions on quality of life
Gain insight into how they can better help patients as future practitioners
Help quicken the time of diagnosis for vocal disorders by recognizing these voice conditions.
This program offers you the opportunity to talk about your voice experience, everything from your initial symptoms to your diagnosis and treatments along with the impact it has had on your life. We have resources and documents, along with individualized support, to help you develop the best presentation for you. Depending on the class format, presentations can be done in-person or virtually. With step-by-step instructions, you can create an impactful and meaningful experience for you and the SLP students.
Your voice is the best educator to help increase understanding of these challenging vocal disorders and make a long-lasting impact on future practitioners.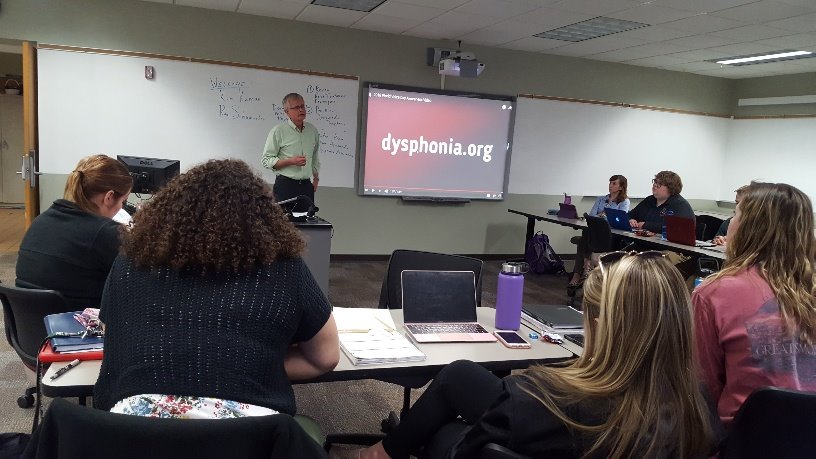 INTERESTED IN LEARNING MORE?
Whether you are ready to become a speaker or just want to learn more about the program, click the button below to complete the interest form.
If you are an instructor and would like to have a Guest Speaker present to your class, click here to email a request.
"Giving these presentations and answering student's questions has been a gift to me. It is one of the few places where my voice is treated with value and respect, no matter what my vocal quality is that day."
"One of the most gratifying things for me is telling my story to new audiences and encouraging them to engage. Whether it is seeing their reactions, listening to their ideas and or answering questions about SD. I always have fun and feel uplifted!"
"We are the ones usually on the receiving end of treatment and attention. Being a Guest Speaker allows us to be teachers and advocates. Students are eager to hear us and learn from us."