Our commitment is to you…our community.
As a nonprofit organization, we appreciate the support of every donor and provide this information to ensure that we are operating with transparency. The fiscal year for Dysphonia International, runs April 1 thru March 31. Our financial statements are audited by an independent auditing firm each year and the 990 tax return prepared prior to the annual Board of Directors meeting in early May. The previous year's audited financials and/or tax returns are available upon request by email.
At this time 87% of the donations received are used to fund programs of research, education, awareness, and support for spasmodic dysphonia and related voice disorders.
Donor Privacy Policy
Dysphonia International will not sell, share or trade our donors' names or personal information with any other entity, nor send mailings to our donors on behalf of other organizations. This policy applies to all information received by Dysphonia International, both online and offline, as well as any electronic, written, or oral communications. To the extent any donations are processed through a third-party service provider, our donors' information will only be used for purposes necessary to process the donation.
Gift Acceptance Policy
Dysphonia International seeks outright gifts and future gift commitments that are consistent with our Mission. Contributions generally will be accepted from individuals, foundations, partnerships, corporations, organizations, government agencies or other entities without limitations unless acceptance of the gifts could be considered inconsistent with the organization's beliefs or values. Dysphonia International will accept gifts for unrestricted, restricted and endowment purposes. A selection of named gift opportunities may be made available to donors when appropriate. These opportunities represent a tangible means of recognizing a donor's investment in Dysphonia International. When gifts with restrictions are offered the restrictions will be honored. These restrictions will be detailed in the donor's gift or pledge commitment letter. Donor information that should be private and confidential will not be made public.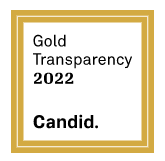 Our organization has been awarded the Gold Seal of Transparency by Candid, sponsored bt Guidestar.org, the world's largest source of information on nonprofit organizations.
Charity Navigator rates nonprofits based on the amount of money they spend on management and general expenses and the threshold for their rating is revenue of $1 million dollars or more. At this time the our organization does not qualify for an official rating, however, if an organization's spending is between 10% to 15% it receives the top score of 10. The NSDA, now Dysphonia International, is currently at 13% for these expenses.