Hearing the sound of a voice just like yours can be a powerful experience. Take a listen to other voices.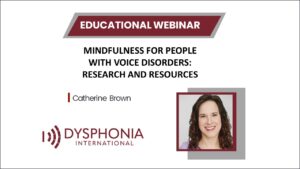 Join us for an educational webinar on Wednesday, December 13, 2023 at 4:30 PM ET
Read More »
"In 2010, I was asked by the organization to be involved with the Dystonia Advocacy Network. I went to Washington, DC, to present an award to the Congressman from my district. This was the best thing that ever happened to me. I had not done any public speaking since my symptoms of SD began, but now, here I was speaking to legislators about a topic so important to me. While there is no cure, research can help improve treatment options and help fund future research. It was this organization that has helped me improve my self-esteem and feel great again. Assuring that the NSDA, now Dysphonia International, can continue to help others is so important to me and that's why I give.
I understand. Those two powerful words can bring relief, comfort, and affirmation to your experience. We can connect you with people who have walked in your shoes. Whether it is through Support Group, Area Contact Leaders, on-line support, local meetings, or symposiums, know the challenges of living with a voice disorder.

PROFILES OF STRENGTH: STORIES OF REAL PEOPLE