Hearing the sound of a voice just like yours can be a powerful experience.
VOICES FROM WALK FOR TALK
"I attended a virtual support group in NC which was the first time I have heard other people with a voice disorder. It gave me huge hope for the future, because I met people with voice disorders who had audible voices and were able to work. I will do a moderate 15 mile Walk for Talk in the local area."  - Helen Thompson from the UK
"My mission of the heart". All proceeds from my business go to Dysphonia International. I help people feel better and, in the process, I also help people with voice disorders, so it's a double whammy. It's on my mind and heart all the time and I am always letting people know in the process." - Dorothy Tannahill-Moran from KS
"For the past five years, I have worked with Dysphonia International. People who live with a voice disorder are some of the most empathetic people I have met. Dysphonia International is one of a kind in the support that they provide to people all over the world and I have been proud to serve this community. This is a great little non-profit doing enormous things." - Nancy Panos, Project Advisor
"It was such a stretch for me to be vulnerable. But it came to be so much more than I ever imagined. It was empowering and I realized that the only way for me to have a voice was to shed awareness! Many many people want to help but just need a way to help! It is truly my honor! - Area Contact Leader from GA, Sue Payne
"The South Central MN/Northern IA Dysphonia Support Group was developed to provide both support and education about dysphonia to individuals and the community. The second reason for our Walk for Talk this year is very special and near to our hearts. We will walk in honor of a long-time group member, Meredith Fitch, who passed away recently.  Her gracious participation in our group inspired all of us, and we are pleased to raise funds in her memory."  - Bruce Poburka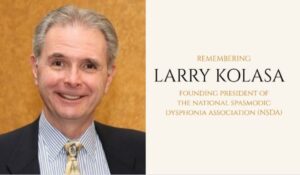 It is with great sorrow that we share that NSDA Founding President Larry Kolasa passed away. We honor his legacy and commitment to our community.
Read More »
"In 2010, I was asked by the organization to be involved with the Dystonia Advocacy Network. I went to Washington, DC, to present an award to the Congressman from my district. This was the best thing that ever happened to me. I had not done any public speaking since my symptoms of SD began, but now, here I was speaking to legislators about a topic so important to me. While there is no cure, research can help improve treatment options and help fund future research. It was this organization that has helped me improve my self-esteem and feel great again. Assuring that the NSDA, now Dysphonia International, can continue to help others is so important to me and that's why I give.
I understand. Those two powerful words can bring relief, comfort, and affirmation to your experience. We can connect you with people who have walked in your shoes. Whether it is through Support Group, Area Contact Leaders, on-line support, local meetings, or symposiums, know the challenges of living with a voice disorder.

PROFILES OF STRENGTH: STORIES OF REAL PEOPLE