In this webinar, hear from Dr. Gerald Berke about progress in research to find answers to advance our understanding of spasmodic dysphonia and related voice conditions. Dr. Berke, a founding member of the Scientific Advisory Board since 2007 and its Chair since 2015, talked with President Charlie Reavis. They discussed current grants funded by Dysphonia International, future research directions, and answer attendees' questions. 
ABOUT GERALD BERKE, MD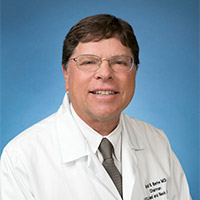 Dr. Berke is currently Professor and Chair Emeritus in the UCLA Department of Head and Neck Surgery and director of the UCLA Voice Center for Medicine and the Arts, which he founded, Dr. Berke is considered by his peers to be an international authority on laryngeal physiology. Born and raised in Southern California, he began developing his interest in the voice and, ultimately, his medical specialty as a rock musician and songwriter. Dr. Berke came to UCLA to complete his surgical residency after graduating from both undergraduate and medical school at the University of Southern California, and became an assistant professor, then advanced to become professor and chair of head and neck surgery.
Dr. Berke has authored over 175 papers in print and 30 grants based on laryngeal physiology and voice disorders and mentored numerous research fellows. Dr. Berke was asked to be a member of the National Institute on Deafness and Other Communication Disorders Advisory Council for six years. He performed the first functioning larynx transplant in animals and developed the only surgical treatment for adductor spasmodic dysphonia. Dr. Berke has also pioneered many of the techniques now used by laryngologists to treat patients in an office setting. Considered by his peers to be an international authority on laryngeal physiology, one of Dr. Berke's main clinical and research focus has always been laryngeal function and the professional voice. Dr. Berke serves as the Chair of the Scientific Advisory Board for Dysphonia International.