World Voice Day is celebrated every April 16th with the main goal of increasing public awareness throughout the world of the importance of the voice and the impact of voice problems. The 2021 theme for World Voice Day is ONE WORLD | MANY VOICES. Awareness is a critical factor that influences early diagnosis, best treatment practices, funding for research and hopefully, cures. World Voice Day helps support these goals. Your voice is unique and should be heard today and every day! Join us in raising awareness about spasmodic dysphonia and related voice conditions.
While the NSDA has "National" in its name, our reach goes beyond the United States, especially thanks to the internet. In the early days, the Spasmodic Dysphonia Bulletin Board connected people around the world including NSDA Past President David Barton from New Zealand. The growth and expansion has continued now with Zoom calls and virtual meetings. People who have a voice disorder, regardless of the cause, walk a similar path, and our community is here to help support, educate, and raise awareness while we search for answers and better treatments. 
In honor of the 2021 World Voice Day theme, One World | Many Voices, we asked some members of our community the differences (if any) about having a voice disorder where they live, and what is common regardless of location. 
The NSDA works to meet the needs of people living with spasmodic dysphonia and related voice conditions no matter where they live. This map shows all the different locations where we are reaching our community. We continue to grow and expand so no one feels alone living with the challenges of these voice conditions. Together, we can help raise awareness, today on World Voice Day and everyday! 

Scott uses Quilting to Help Find Answers for SD
Scott Flanagan is raising awareness and funds for the NSDA. From, Scott, "Today is National Voice Awareness day and I would like your help in raising funds for the National Spasmodic Dysphonia Association to help further research into treatments and causes for SD. If you donate between now and May 1st you can get a FREE copy of my pattern "Changes in Seasons" as my thank you in helping to raise funds! If you donate and list me as the honoree, after May 1st the NSDA share your email with me so I can send you a digital copy of the pattern. Thank you for your support!"
Donate in Scott's honor and receive a digital copy of his original quilt pattern, Changes in Season,

which is

personal statement of living with SD.
Raise Awareness Through Social Media
If you are active on social media, help raise awareness about spasmodic dysphonia and related voice conditions by sharing World Voice Day images on your profile. If you are comfortable, share something about your own experience of living with a voice condition. Be sure to use #WVD so we can find your post! To save an image, click on the graphic you like, and it will pop up. Then you can right click on it and save it.
When a voice disorder limits your ability to express yourself, you might find different mediums to convey your message. Below are some examples of how the people with spasmodic dysphonia have shared their stories
SPEAKING
A Poem by Dot Sowerby
Listen to Dot Sowerby read her poem entitled, Speaking. This poem will be featured in new book, Speechless No More, which will be available on May 1, 2021. This revised edition describes Dot's struggle to overcome SD.  Both distressing and inspiring, her quest to understand the cause of her voice condition and find a treatment for it is told with honesty and spirit. Written with candor and self-awareness, this narrative of perseverance after loss of normal speech is an inspiration to anyone who is burdened with a disability. Dot's story of struggle, acceptance, and determination sets an example of a life well lived.

Cookie - A Short Film by Shane Hartline

The short film,
Cookie,
is
now available for viewing
! It tells the story of a young woman, who after losing her voice to a debilitating vocal condition, fights to find it again to pursue her dream of acting. The film's creator, Shane Hartline, has lived with spasmodic dysphonia since early childhood but it did not stop him from pursuing his goals of acting and now producing and directing. Shane first shared his story about living with SD publicly on World Voice Day 2019 and on World Voice 2020, the trailer premiered.
Please note there is some profanity in the film.
SPEECH DISORDER

A Poem by Ilene Cooper
I awaken and wonder, whether I will be able to talk and be 
Heard
Or sound instead, like a strangled bird. 
  Wondering how to practice speech
  exercises and  in a quick second they are
Worthless
They are not. They are useful but not every day or every time.
Not useless, nor am I even with a teeny strangled voice
Like an old person or heavy smoker,
  Or told too many jokes till I'm hoarse, (if only).

I have prayed for strength and lived it
For over a year now,
I have traveled the road of many  souls,
  and worked without a safety net,
or text to speech recorder,
it is still a rare 
Disorder.
Most never heard of it in life's largest ponds,
And have no reference to respond.
Many have voice disorders but manage to squeak by and I do mean
Squeak without communicating,
though we are real heroes
  for persistence and bravery
despite the felt tragedy.
Julia Child had a tremor and a high tone that is famous,
I can hear her saying "Bon appétit" in her high voice,
in my mind's eye and it cheers me up.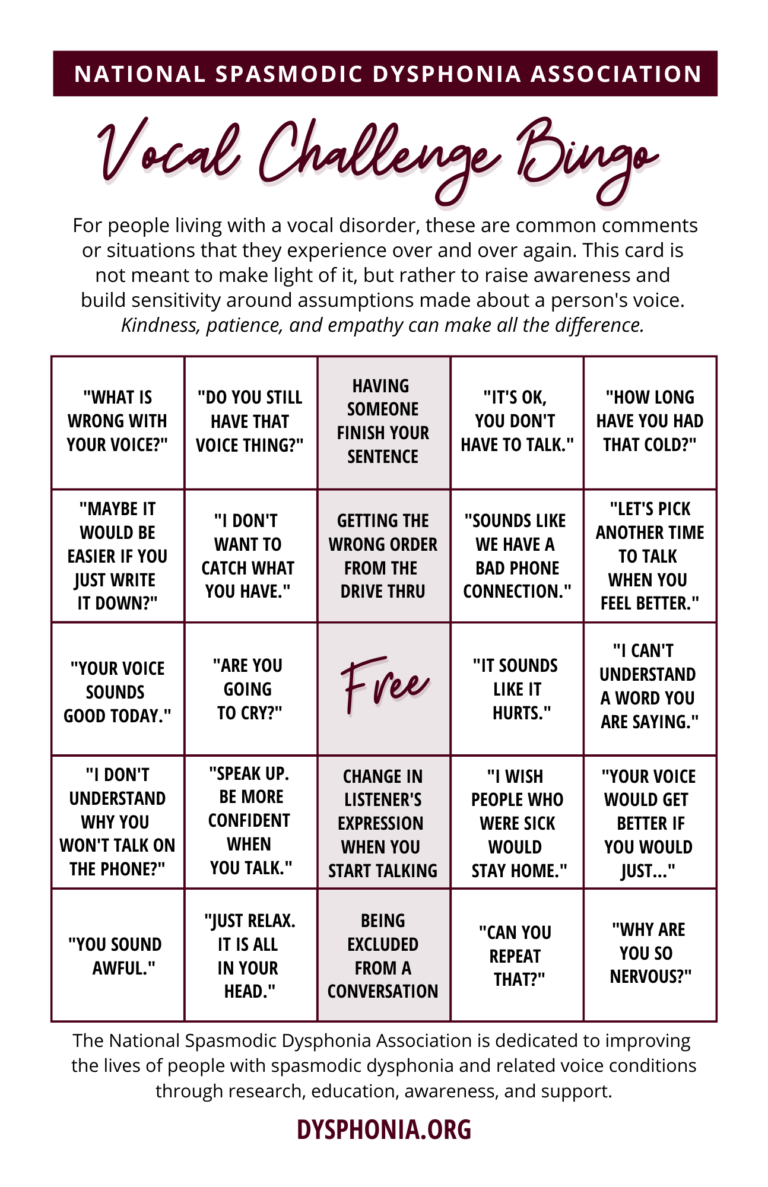 When the NSDA community comes together, we find common threads. It could be a comment or a situation that seems to occur over and over again. "Bingo cards" have recently become popular on social media and we thought this would be an interesting way to capture and present these shared experiences. Please know, this card is not meant to make light of vocal challenges, but rather to raise awareness and build sensitivity around assumptions made about a person's voice. This could be used to share with family and friends to start a discussion. It could be helpful in validating your own personal frustrations. And hopefully more people will practice kindness, patience, and empathy knowing that these can make all the difference for dealing with a vocal challenge.
You can download a PDF version of this card. We also created a template, where you can write your own comments (both positive and negative) about what you have experienced in regard to your voice. If you share your thoughrs with the NSDA, we can even create different versions of it.