WEBINAR | The ADA and Workplace Accomodation for Employees with Voice Disorders with Teresa Goddard
WEBINAR | The ADA and Workplace Accomodation for Employees with Voice Disorders with Teresa Goddard
2024wed31jan5:00 pmWEBINAR | The ADA and Workplace Accomodation for Employees with Voice Disorders with Teresa Goddard
Event Details

REGISTER HERE

Date | Wednesday, January 31, 2024

Time | 5:00 PM ET (Please adjust to your time zone accordingly)

Join us for an educational webinar on Wednesday, January 31, 2024 at 5:00 PM ET presented by Dysphonia International.

Join us for a discussion with Teresa Goddard, Lead Consultant – Assistive Technology Services at Job Accomodation Network. Teresa will provide an overview of the Americans with Disabilities Act (ADA) and address workplace accomodations for those with voice disorders.

The webinar will be recorded for later viewing.

ABOUT OUR PRESENTER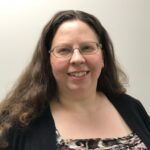 About Teresa Goddard
Teresa Goddard joined the Job Accommodation Network (JAN) staff as a Program Assistant in March 2008, joined the JAN Motor Team as a Consultant in August 2008, and then transitioned to JAN's Sensory Team. Teresa now provides expert level consultation and team leadership as a Lead Consultant on JAN's Sensory Team. In this role, Teresa fields questions from employees and employers regarding their rights and responsibilities under the Americans with Disabilities Act (ADA) and assists in identifying accommodation solutions for individuals with sensory impairments.
Teresa's professional experience includes work as an Educational Speech-Language Pathologist and as an English as a Foreign Language (EFL) instructor in Aichi Prefecture, Japan, where in addition to classroom teaching, she led continuing education workshops on collaborative instructional techniques and cross-cultural understanding.
Teresa earned a Master of Science degree in Speech Pathology and a Bachelor of Science degree in Speech Pathology and Audiology from West Virginia University (WVU). Teresa's research interests include assistive technology, trauma informed practices, and cross-cultural perspectives on disability services.
Time

(Wednesday) 5:00 pm ET
IN MEMORY

Daniel Lee Bray
ALIVE FOREVER MORE

August 24, 1984 – December 20, 2020 (36 years old) 

Daniel was a son, brother, animal lover, artist, animator, poet, rapper, musician and extraordinary soul who was filled with extraordinary faith while conquering enormous challenges after being diagnosed with Spasmodic Dysphonia at 19 years old. His story is a story of triumph, victory, courage and understanding. Daniel left many life lessons and through his experience on earth he will continue to touch lives inspiring us all to be more aware and to build more awareness of what brought him home. Daniel is a warrior and his inspiration that has been collected by his family will be used to bring hope and to change the world! 

"We don't yet see things clearly.  We are squinting in a fog, peering through a mist. But it won't be long before the weather clears and the sun shines bright! We'll see it all then, see it all as clearly as God sees us, knowing Him directly just as He knows us!"
— 1 Corinthians 13:12 

We Love You Always Dan! 

ABOUT THE NSDA

The National Spasmodic Dysphonia Association is dedicated to improving the lives of people with spasmodic dysphonia and related voice conditions through research, education, awareness and support.

Address:

300 Park Boulevard | Suite 175 | Itasca, IL 760143