Arash Mahnan | University of Minnesota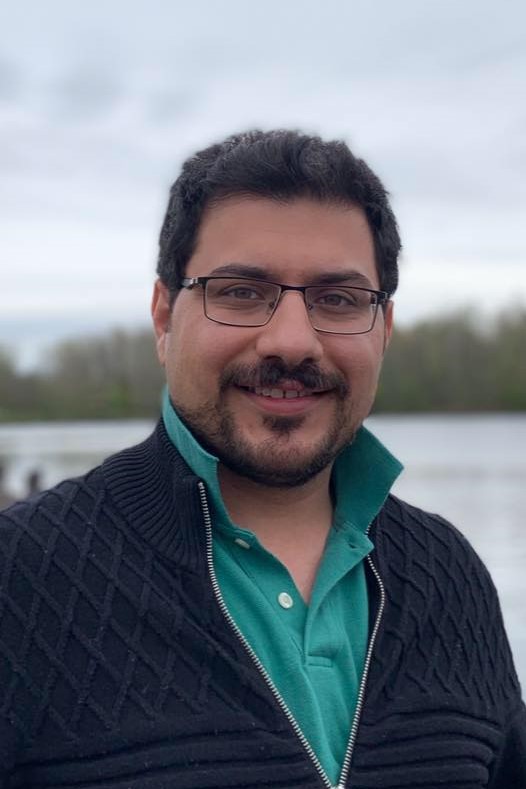 Researcher Arash Mahnan is the recipient of 2020 the NSDA Research Award in partnership with The Voice Foundation. Arash participated in the 2020 Voice Foundation Virtual Conference and presented his research entitled, "Vibro-tactile Stimulation as a Feasible Symptomatic Treatment for the Voice Disorder Spasmodic Dysphonia." His team is working on a series of projects focusing on vibro-tactile stimulation (VTS) of the skin above the larynx as a new potential treatment for spasmodic dysphonia. He said, "Success in our endeavor will result in an alternative non-invasive treatment for spasmodic dysphonia. Our team recently received a research grant from NSDA to further develop a wearable device that users can wear around their neck and is able to apply vibration to the larynx. In addition, we are planning to test and demonstrate the effectiveness of the device in a small sample of SD patients. We are actively recruiting individuals with SD to participate in our clinical trials."
Arash shared, "The Voice Foundation (TVF) is the world's leading organization dedicated to voice research, medicine, science, and education. Attending the Voice Foundation symposium allowed me to present my work for researchers in the field of voice and receive constructive comments about my research. This helps our team to better understand the challenges and improve our work. The symposium also provides an opportunity to build a network in the community for future collaborations." Below is an abstract of his presentation.
Additional Authors: Sanaz Khosravani PhD, Peter J Watson PhD, Yang Zhang PhD, George Goding MD, Juergen Konczak PhD
Abstract: Objectives: Spasmodic dysphonia (SD) is classified as a focal dystonia of the larynx. There is no cure for SD and the available treatment options are limited. The goal of this work is to investigate the effects of vibro-tactile stimulation (VTS) of the larynx on voice quality and electrocortical activity of patients with SD.
Methods/Design: Thirteen people with SD (8 females; 5 males; mean age of 58 (StD = 12.5 years) were recruited from the Fairview Clinic at the University of Minnesota and attended the study. The experimental protocol comprised two identical sets: (1) application of laryngeal vibration for 7 minutes (VTS Only), and (2) vocalization the vowel /a/ and laryngeal vibration for 10 minutes (Vocalization. + VTS). Total exposure to VTS was 34 minutes.
Results and Conclusions: In response to VTS, 9 participants (69%) exhibited a reduction in the number of voice breaks and/or a meaningful increase in smoothed cepstral peak prominence, an acoustic measure of voice/speech quality. Symptom improvements persisted for 20 minutes past VTS. Our result shows that VTS alters afferent proprioceptive input to sensorimotor cortex that controls speech. As a result, VTS induced a significant suppression of theta band power (4-8Hz) over the left somatosensory-motor cortex and a significant rise of gamma rhythm (30-49Hz) over right somatosensory-motor cortex. Such suppression of theta oscillations is observed in patients with cervical dystonia who apply effective sensory tricks, suggesting that VTS in SD may activate a similar neurophysiological mechanism.
Results of this feasibility study indicate that laryngeal VTS modulates neuronal synchronization over sensorimotor cortex, which can induce short-term improvements in voice quality. The effects of long-term VTS and its optimal dosage for treating voice symptoms in SD are still unknown and require further systematic study.
The work is also published here: Khosravani S., Mahnan A., Yeh I-L., Aman J., Watson P.J., Zhang Y., Goding G., Konczak J., (2019), Laryngeal vibration as a noninvasive neuromodulation treatment to improve voice symptoms in spasmodic dysphonia, Scientific Reports, Vol: 9, 17955.
Contact Information: Email: amahnan@umn.edu | Website: http://research.cehd.umn.edu/hsc/sd-vts/
Sponsoring Organizations
The Mission of The Voice Foundation is to enhance knowledge, care and training of the voice through educational programs; to publish material for voice care professionals, the public and professional voice users; and to support and fund voice research. For more information: voicefoundation.org
The National Spasmodic Dysphonia Association is dedicated to improving the lives of people with spasmodic dysphonia and related voice conditions through research, education, awareness, and research.