With great sorrow, we share that Larry Kolasa passed away peacefully at home, surrounded by his loving family, on November 28, 2022. Larry helped to found the NSDA in 1989, serving as its first president and remaining active on the Board of Directors until his death. A true testament to his commitment to our community. Larry knew firsthand the challenges of voice disorders like spasmodic dysphonia as he lived with it for over 40 years. Turning adversity into opportunity, Larry's dedication over these 30-plus years ensured people living with spasmodic dysphonia and related voice conditions did not feel alone and could find a place of support, strength, and hope in the NSDA. 
During the 30th anniversary of the organization, Larry shared, "Over forty years ago I was diagnosed with a rare and strange vocal cord disorder called spasmodic dysphonia (SD). It was a relief to learn that I wasn't crazy because I couldn't control my voice. As a life insurance salesman, it definitely affected my career and my personal and social life. It stifles spontaneity and ruins your personality. After struggling emotionally and financially for about ten years, a physician named Daniel Truong came to our local SD support group in Birmingham, MI, to recruit people to participate in a double-blind study on the effects of Botox® injections to control the symptoms of SD. On March 11, 1989, my life changed when Drs. Daniel Truong and Michael Rontal (my otolaryngologist) gave me my first Botox injection.
"In late April, 1989, Dr. Truong called to inform me that WE were going to form a national organization for people with spasmodic dysphonia and that I would be the first president. To say I was reluctant is an understatement. I thought if I ignored him, he would give up. But Dr. Truong was like a bulldog and did not let go until I realized that this was something WE had to do. In the fall of 1989, we formed and incorporated the National Spasmodic Dysphonia Association (NSDA), a nonprofit organization dedicated to improving the lives of people affected by SD through awareness, education, and support."
It was important for Larry to contribute and give back to his community. In addition to the work with the NSDA, he was also active with the Million Dollar Roundtable for decades and was a former president of the Million Dollar Roundtable Foundation, which raises money for a number of philanthropic organizations. With Larry's support, the MDRT Foundation funded NSDA projects including the award-winning awareness video and the book, Easier Done than Said: Living with a Broken Voice. Larry was also a dog lover, with his beloved Charleston Bell "Charlie" as his latest companion. True to his character, Larry channeled his passion for dogs to help others. He trained his dogs to be therapy dogs. Larry was also a proud veteran serving in the United States Air Force from 1963-1968.
Our hearts are with Pam, Larry's wife of 59 years, his two sons, Larry, Jr., and Stephen and their families. We grieve at the loss of this good friend whose generous spirit helped to bring us all together. Rest easy, Larry, and thank you.
REFLECTIONS ON LARRY | CHARLIE REAVIS, PRESIDENT
I met Larry over 20 years ago when I became a member of the National Spasmodic Dysphonia Association Board. We became friends and very quickly bonded with deep respect and admiration for each other. In fact, we became like brothers and often addressed each other as 'brother'. I soon realized that Larry was much more than the first President of the NSDA–in fact a key cornerstone for the foundation of our organization. When we started discussing expanding our organization's Mission and changing our name, we had long conversations about these proposed changes, and he said, "It is time to change and help more people with voice problems." That was Larry, caring and wanting to help others!
Larry was a man of strong faith, funny, enjoyed life, good Scotch, and had a profound devotion and love for his family, friends, and the voice community. Over the past few years, as he fought the cancer that was taking over his body, he said many times, "I don't want people feeling sorry for me because I have been blessed with a wonderful life." Larry often talked about how blessed our organization has been and that we had an 'angel' on our shoulder. A few weeks before his passing, he told me how thankful he was to see how our organization had grown and to be a part of it for over 33 years. I had the opportunity to speak with Larry a couple of hours before his passing, and some of his last words to me were, "I am Blessed".
Go rest high on that mountain, My Brother!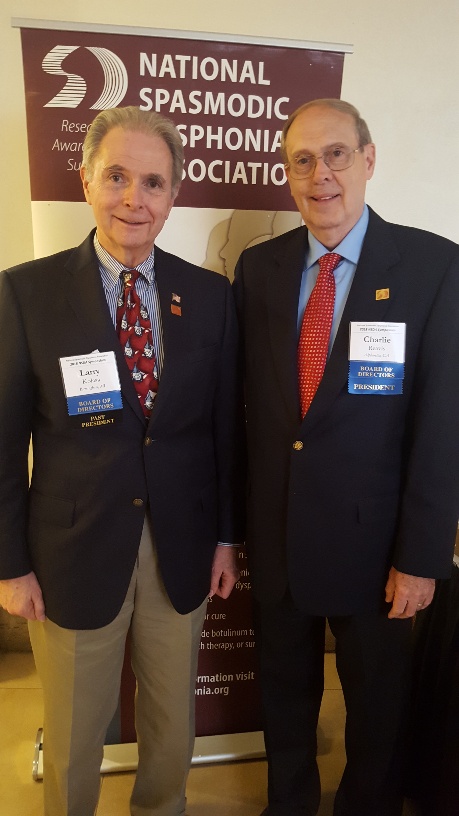 CONVERSATION WITH LARRY KOLASA
In 2019, Larry Kolasa came to the NSDA office in Itasca, IL, and sat down with Executive Director Kimberly Kuman to talk about the organization's founding, his journey with SD, and his reflections over these many years. 2019 was a poignant year because it was not only the 30th anniversary of the organization but also because Larry was turning 80. We are so glad to have captured these stories and be able to share them with you as we remember Larry.
ABOUT THE HISTORY OF THE NSDA
Larry was awarded the Dot Sowerby Pioneer Award virtually in 2022
Larry touched the lives of many and you can share your memories of Larry
Read the chapter in the book Speechless No More called "NSDA Pioneers"