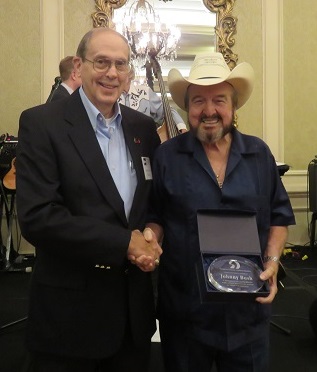 Country Singer Johnny Bush passed away on October 16, 2020. He served as an Honorary Director for the National Spasmodic Dysphonia Association. In 2014, Johnny performed at the Fall Voice Conference for voice specialists. There, he was honored by the NSDA in appreciation for his on-going dedication to raise awareness about spasmodic dysphonia and his support of the organization. Johnny didn't let his struggles with spasmodic dysphonia stop him from sharing his many gifts and was still playing out regularly at age 85. Our thoughts are with his wife, Lynda, his family, friends, and many fans.
Links to tribute articles on Johnny in the press:
Rolling Stone | Houston Chronical | Washington Post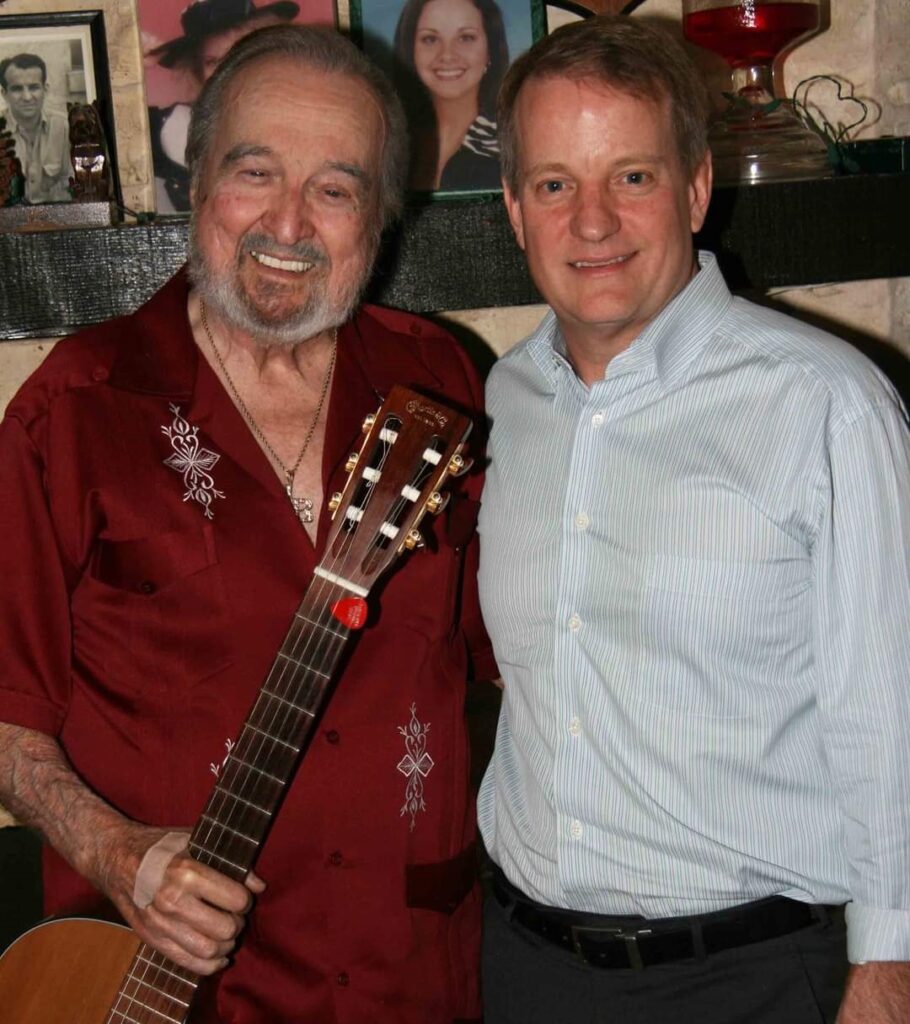 Tribute to Johnny Bush
By C. Blake Simpson, MD
Johnny Bush was an amazing man. I had the honor of treating him for SD over the past 15 years and was privileged to consider him a good friend. I will never forget meeting him for the first time and how adamant he was against Botox injections. It took two years to convince him, and a lot of trial and error with the Botox dosage to get him his singing voice back. But we did. Honestly though, Johnny is more responsible for his comeback than anything I ever did for him. He had such a beautiful voice and he just needed a nudge to unlock it.
When Johnny started performing again, he made a pledge to dedicate his life to helping others with voice disorders. Johnny walked the walk. He would actually accompany patients to my clinic and would become their #1 advocate as they navigated through the struggles that our patients with voice disorders must endure.
Johnny Bush will long be remembered as an amazing songwriter, vocalist, and performer. The "Country Caruso" was deserving of his nickname. But most importantly, he will be remembered as a father, a husband, a friend, and a damn nice guy. I will miss him.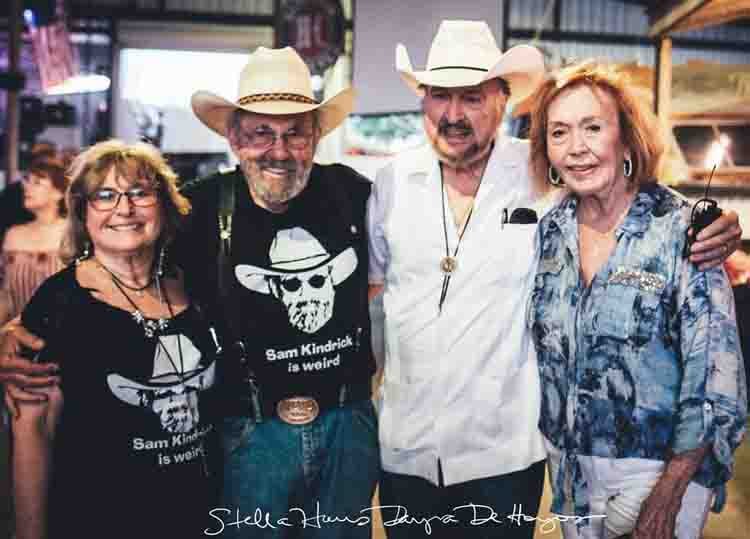 I was there in 1974 when Johnny Bush started losing his voice. The public and the press had labeled Bush the "Country Caruso." No other male voice in country music could match Bush's soaring operatic pipes. He was signed on the RCA label at the time, and a tune he wrote titled Whiskey River was steadily climbing the charts. It was his first single on RCA. Then it happened.

The beautiful voice suddenly died away to a pitiful rasping croak. None of us knew what to say. I will never forget Bush's response when I asked him what he intended to do. There were tears in his eyes when he answered with little more than a raspy whisper: "I will sing. I have to sing. I will find a way." Willie Nelson, Bush's longtime friend and picking partner, told me he thought Bush had injured his voice singing in a vocal range that was too high.

Johnny knew better. "Hitting those highs was as easy as breathing for me," Bush said. "I knew it was something else." Months and years went by before Bush got an answer. There were voice lessons, voice coaches, and painful attempts to sing or even talk at times. It was something else, okay, a rare vocal disorder called spasmodic dysphonia. And the rest is history. With help from Dr. Blake Simpson and a series of Botox® injections directly into his throat muscles, Johnny Bush regained more than 70 percent of his singing voice and jump-started his career with a deeper and more controlled and resonant vocal output which was still the unmistakable Bush sound.

As the years rolled by, John and I developed a friendship that had grown exponentially stronger. We were both 85 at the beginning of this month, and both of us had experienced medical problems that included my bout with metastatic thyroid cancer and Bush's his- tory of heart and respiratory problems. We talked a lot about God and our mistakes which somehow led us to varied forms of spiritual reflection and recovery.

I knew John had been failing fast over the past few months, but I wasn't ready for the news of his death. He died of pneumonia on October 16, my 31st year sobriety birthday. I first saw the news on Facebook. I told my wife Sharon that Johnny was gone, then I went out behind my Bulverde wood shed and bawled like a baby. Sharon went back to bed and covered up her head.

Johnny Bush was our special friend. He was also one of the greatest all- around talents country music has ever known. In addition to his unique voice and singing style, Bush was an accomplished drummer, fiddle player, and guitarist who made it into the Texas Country Music Hall of Fame. Fittingly, Bush's best friend, Willie Nelson, did the inducting honors. Bush entertained me with stories from the beginning years when he and Willie worked on Radio Station KBOP in Pleasanton. Nelson was the disc jockey, Bush the weather man.

"I would raise a window, look outside, and then give the forecast," John told me. "If it was clear or cloudy, that was it. I predicted rain if the raindrops were hitting the station window." I remember a lot of it, but credit Tracy Pitcox, president of Heart of Texas Records in Brady, for assembling back- ground information which is all part of Johnny's abundant legacy.

Bush was born in Houston's blue-collar neighborhood of Kashmere Gardens. He was influenced by Bob Wills, Ernest Tubb, Lefty Frizzell, and Hank Thompson before playing in Willie Nelson's early group The Record Men. Willie bankrolled Johnny's first album in 1967, Sound of a Heartache.
In 1952 Bush moved to San Antonio from Houston. As a drummer he worked for bands that included Mission City Playboys, The Texas Plainsmen and the old Texas Top Hands. When Johnny hooked up with Ray Price's Cherokee Cowboys, the road to Nashville materialized. As a Cherokee Cowboy, Bush was in familiar company. Willie was on lead guitar, Johnny on drums, Darrell McCall on bass, and Jimmy Day on Steel. When Willie, Bush, and McCall left Price to form their own groups, Ray was heard to say, "I lost my band when most all of them went off to become stars."

A series of regional hits on the Stop label followed Bush's first album, including Undo the Right, What a Way to Live, You Gave Me a Mountain, and I'll Be There. These were all regional hits that reached the top-20 nationally.
Bush thought his voice loss meant he was being punished by God for his promiscuity, drinking, and drug use. He was raised a Baptist, but didn't reclaim his faith until he met privately with the late Buckner Fanning, pastor of San Antonio's Trinity Baptist Church. "Buckner explained that God didn't do it. He led me back to the Lord. And then I met Dr. Blake Simpson who gave me the Botox® shots that rescued my career," Bush said.
It was during Bush's blackest days that Willie Nelson recorded a version of Whiskey River in double-time. This resulted in a spike of writer royalties for Bush and a subsequent Bush tune which implored: Willie Don't Stop Singing Whiskey River, it's the only thing keeping me alive.
Good things began to happen for Bush, including a 1986 project with Darrelll McCall that included a successful honky-tonk album titled Hot Texas Country. After his induction into the Texas Country Music Hall of Fame, he released an autobiography, Whiskey River (Take My Mind): The True Story of Texas Honky-Tonk, published by University of Texas Press. Released at the same time was a new album, Kashmere Garden Mud: A Tribute to Houston's Country Soul.
Bush was unselfish and possessed of that rare quality known as humility. I never heard him put down a fellow musician, and his tireless work with people afflicted with speech disorders netted him the Annie Glenn Award, named for the wife of John Glenn by the National Council of Communicative Disorders for his work in bringing attention to the spasmodic dysphonia affliction.

Johnny was a mentor of sorts to many of the younger musicians. He lent his voice on recordings by Dale Watson and Reckless Kelly, to name only a few. On the Brady-based Heart of Texas label, Johnny released recordings that include Little White Lies, Reflections, Who'll Buy My Memories. The label released a duet single with Justin Trevino titled Texas on a Saturday Night and a duet with Johnny Rodriguez titled Texas Legends.

I featured my friend on numerous covers of Action Magazine, the entertainment tabloid I published for 40 years, and Bush closed out all three Action anniversary concert shows held at Texas Pride Barbecue in Adkins. "You can always count on me for help," John told me. "I will always be with you."

As always, Johnny wowed the crowds with his powerful vocals and humble demeanor. He was always the consummate professional. John wore stockman blocked cowboy hats with the brim swept high on both sides. His pointy-toed cowboy boots looked like they were spit- shined just before every show. I never saw Bush on a stage in T-shirt and tennis shoes; His jeans always bore a military-style crease, and Bush closed out the Action Magazine shows as he has closed out every performance through his storied career with a deep bow from the waist down as his audiences went wild.
They saw what I have known for more than 40 years. Johnny Bush was a Christian gentleman and a true class act. Bush loved his family, including daughter Gaye Litton, who he always characterized as an "angel" in human form for her tireless work with women substance abusers sent to Alpha Home for recovery. I asked Gaye why she chose me to write this tribute. Her answer was all I could ever have wanted. Daddy loved you, and I know he would want you to write his tribute."

Survivors include wife Lynda Bush; former wife Jean Shinn, mother of daughter Gaye Lynn Litton; daughter, Gaye Lynn Litton and husband Mark; brother Gene Shinn and his wife Nema; step-daughter Christine Hecker and husband Mike; grandchildren Ashley Scott and husband Andrew, Ryan Preston and wife Kelly, Stephen Litton, and Amanda Skeeters and husband Casey; great grandchildren Cooper Scott, Connor Scott, and Charles Preston; and several nieces and nephews.
Johnny was preceded in death by stepson Trey Kilian. In lieu of flowers, the family requests donations to one of the following: National Spasmodic Dysphonia Association, Dysphonia.org, or The Alpha Home Alpha.