CLICK PLAY TO LISTEN TO "I HAVE A VOICE"
WRITTEN AND PERFORMED BY GRACE ASKEW AND WENDY JEAN GARRISON
SLIDE GUITARIST CO-WRITES SONG ABOUT A BROKEN VOICE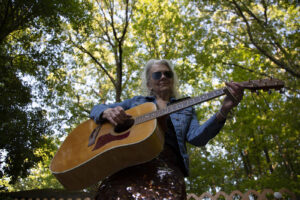 Slide guitarist Wendy Jean Garrison gives voice to her acoustic guitar — moving her hand up and down the frets, her pinky covered with a steel socket wrench. While her Mississippi blues sound comes easy, for Wendy, speaking is harder. First noticing a change about fifteen-years-ago, eventually, she was diagnosed with a rare neurologic vocal disorder, spasmodic dysphonia (SD). Involuntary muscle spasms impact the vocal cords, resulting in sometimes strained and strangled speech. During COVID-19, Wendy and Memphis-based Grace Askew, an award-winning songwriter and performer, joined together to co-write "I Have a Voice," a heartfelt song about SD.
The song grew out of a request from Mary Bifaro, a longtime board member and volunteer director of the National Spasmodic Dysphonia Association (NSDA) support leadership network. For Mary, "It's been a dream come true for me to unite our community through a song."
The NSDA is dedicated to improving the lives of people with SD and related voice conditions through research, education, awareness and support. Through the organization, Wendy has found kindred spirits. She is an active member, area contact leader, support group leader, and has attended many national meetings, even performing at one in Nashville, TN.
The song is part of Wendy's musical journey. Raised in Maryland, several years after college, in 1987 she moved to Mississippi with her husband. "I was interested in the environment and Mississippi was a place where we could afford to buy land." They put down roots on 80 acres. Wendy continued her studies and earned a PhD in biology from the University of Mississippi. She went on to enjoy a long and satisfying career as a biology instructor there.
Along the way, music played a central role in Wendy's life. Meeting blues scholar and harmonica player Walter Liniger at the University of Mississippi was a turning point. Liniger shared his gift with Wendy, who went on to study with blues guitarists James "Son" Thomas and Bill Howl-N-Madd Perry, and emulate the music of Skip James, Charlie Patton, and Robert Johnson.
Wendy said, "When I think about it, the slide is very much like a voice. Since I don't sing, playing the slide is a way for me to communicate. That's very appealing to me."
Since 1996, Wendy has been a regular with local bands, including the "High Water Mark" and more recently, "Maybelle's Lovers." Her customized soundtracks were featured at the 2020 Tennessee Williams Festival and on the Hill County TV Network in New Albany, Mississippi, among others.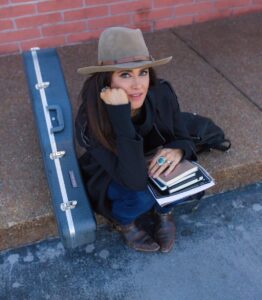 During the COVID-19 pandemic, Grace became Wendy's songwriting coach. Grace said, "I had never heard of SD or NSDA, so when Wendy brought this project to my attention, it was intriguing that we could write a song that could affect a whole community. When we started to write the song, the lyrics began to resonate with me. Even though I don't have this condition, as a child, I didn't feel heard, so I began to see myself in the song. When you write something, you don't know how it will affect people from all walks of life even though it was written for a specific audience."
Wendy added, "When I mentioned the idea of writing a song about SD, Grace was instantly on board. She asked me to explain what it was like to have a voice disorder. I tried to give some insight about what it is like day-to-day."
The song reflects both the isolation caused by SD and the intense connections that can be formed through its national association. "I Have a Voice" will be featured in the NSDA's upcoming fundraiser, Walk for Talk, from October 7 through 11, 2021. This annual event brings together the organization's community along with their family and friends to increase awareness about SD and related voice conditions and raise funds to support research to find better treatments and eventually a cure.
I have a voice
But some of us don't have a choice
To bring it out in the world
How we want to
I have a voice
A reason to rejoice
But I wanna swallow my words,
When the hollowness hurts
But I don't wish on lucky stars
Cause' I've found that I'm not alone
Finally, I'm building
A place to call home
I was never alone
May I have your attention, please
Freedom of speech
ain't easy for everybody
But we all need to reach
Out to one another
To our sisters and brothers
A new day is dawning
New ways to keep talking
But I don't wish on lucky stars
Cause' I've found that I'm not alone
Finally, I'm building
A place to call home
But I don't wish on lucky stars
Cause' I've found that I'm not alone
Finally, I'm building
A place to call home
My voice was never alone
I was never alone
I was never alone
SONG CREDITS
Co-written by Grace Askew and Wendy Jean Garrison
Vocals and guitar by Grace Askew
Slide guitar by Wendy Jean Garrison
Mixed and mastered by Ricky Burkhead
Learn more about Wendy's journey with spasmodic dysphonia and support her efforts to raise funds for the 2nd Annual Walk for Talk to benefit the NSDA by donating today!