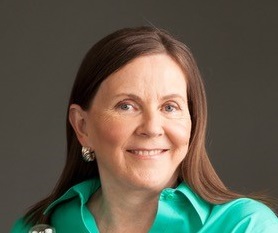 We are excited to welcome Dorothy Tannahill-Moran to the NSDA Board of Directors! Dorothy has been very engaged with the organization as the Support Group Leader of the Kanas City Support Group, writing articles for the NSDA website and newsletter, presenting at NSDA Symposiums along with webinars. We asked her to share her voice journey and how she became involved with the NSDA.
Can you tell us about your voice journey?

I had spent a year or more noticing my voice decline and people increasingly not able to hear what I said. I ended up going to a speech therapist thinking my voice was simply getting weak and thought getting something like a personal trainer for my voice would help. After three sessions, I could that it wasn't making a difference so I stopped going. The speech therapist never suggested I had SD or anything other than my own assessment. About that same time, I had been working with a neurologist for a year and a half getting a diagnosis for Essential Tremors and it was my final appointment with him that my preliminary diagnosis occurred – almost as an afterthought. He asked me if I had any other concerns and I mentioned problems with my voice. It was very spontaneous, as I didn't think my voice issue had anything to do with his specialty. Nevertheless, after he had me do a few things, he gave me the preliminary diagnosis of SD and sent me to an ENT that specialized in SD. It was Dr. Joshua Shindler who diagnosed me in Portland OR in 2008. Over time, I came to realize that my SD was showing up about 10 years earlier but it wasn't consistent. I would just have random voice issues that might affect a sentence or two and then go away.
How has it impacted your life?
I have two answers to the question. 1. Not at all, and 2. Daily. By saying SD hasn't impacted my life it means I haven't let it hold me back from doing any of the things I wanted to do. When I was diagnosed I was going through coaching school and launched my business as a coach. I spoke to people by phone everyday and also did webinars and talks. I know that it probably turned some people away but I've always looked at it, as those weren't people I was meant to work with. I still coach and still do public speaking. By saying SD effect my life everyday, SD is very exhausting. I liken SD to running a race every time I speak. I have a lot of facial and neck tension caused by it, which is an every present reminder. Like everyone with SD, people with hearing deficits find me hard to understand and a person very close to me (who shall not be named) is the biggest daily challenge I face.
Professionally my biggest and latest careers were 21 years at Intel Corporation where I managed various groups in marketing, manufacturing & HR with the largest organization being 1000 people. Twelve I then decided to put that experience to good use and became a Life and Career Coach. I was diagnosed just at the time I starting going through coaches training but it didn't deter what I intended to pursue. I suspect that my voice did turn people away but I'll never know. In the past 2 years I became a certified sound therapist and use that skill to fundraise for NSDA.
How did you get involved with the NSDA?
It wasn't until I moved to Kansas City seven years ago did I find the NSDA. Before that, when I lived in Portland, I tried finding a group but for some reason, I never did. I went my first five years after being diagnosed of speaking to only one person with SD and he lived half way across the US. I connected with the NSDA about two months after I moved. It was amazing to actually spend time with people who sounded like me!
How has volunteering with the NSDA impacted you?
I think the biggest impact of volunteering with the NSDA is witnessing how grateful and nice everyone is that I've encountered. I think people with SD have a level of understanding and empathy to each other that no one else without it can have. It all warms my heart.
Why did you want to join the Board?
I've had the attitude that if I could somehow help our cause; I needed to help however I could. I had already been the local support group leader when I was asked to write for the website and newsletter and I jumped on the opportunity. I have the same perspective about being on the Board. If they think I can help our cause, I will serve.
What would you like to bring to the NSDA Board?
As a newbie, I still have to find my focus but right now I can share some things that are on my radar. First, I'd like to see some companies and "big names" get behind us to give us visibility, which in turn gives us more funding. (More funding = more research) Second, I'd like to see more focus given to alternative healing modalities such as chiropractic, massage, nutritional counseling and meditation. I have pursued many of those things for several years and I think my voice has improved as a result. Third, I love that we are going international in our charter and I want to help bring together voice-impaired people outside of the US for the kind of support we get here in the US.
And thing else you would like to share?
On a personal level, I am servant to two beautiful but demanding cats – Irma & Tala and wife for 40 years to my husband Terry. You can bribe me with a cookie or promise of lunch. (what can I say, I believe in transparency).